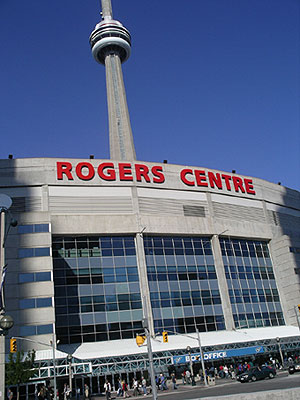 Saturday, I attended my 3rd game this season at the Rogers Centre. And I have to tell you about my ballpark traditions.
By now, most Jays fans know that beer, food, and souvenirs are overpriced; yet you pay for them anyway. I am guilty of all three in most visits to the Rogers Centre. I enjoy my "Big Swing combo"; which is a ballpark dog, those badass French fries, and a ginormous Coke for 10 bucks. Not too bad, considering you can get a tallboy beer for 10 dollars.

Then I always waltz my way to the Jays shop, to see which Blue Jays merchandise I will talk myself into purchasing. Somehow, this time I managed to walk away without buying anything. Most likely it's because I know I'm coming back to Toronto in a week.

So after I'm all situated, I sit down for the game. But I have to tell you about these stupid things.

Those damn Juniors Jays kids that dance on the dugout every Saturday. Who the hell cares? That music drives me nuts, and them prancing around on top of the dugout is clearly a time killer between innings. Poor kids.

Some people may call me a horrible person, but for some reason I'm not a big fan of the "OK Blue Jays" song. Maybe it's because every time I'm at a game, some old woman in front of me decides it's her time to audition for "So You Think You Can Dance", and looks like a total idiot. I'm more of a traditionalist, and enjoy "Take Me Out to the Ballgame" much more.

For me, a game at the Rogers Centre is much more than just what happens on the field; it's about the food, the heckling, the atmosphere, and the entire experience that goes with it. And I wouldn't trade it for anything else in the world. Maybe that's why I wasn't completely devastated when the Jays lost 5-3.

Go Jays go!