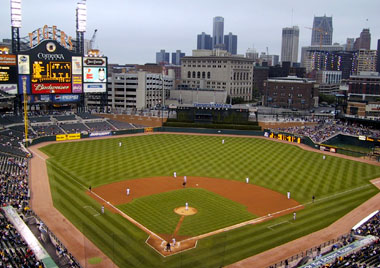 Monday I'll have the pleasure of traveling to the Motor City to watch the Jays take on the Tigers. I'm excited and scared all the same time.

I'm very excited to see my team play September baseball, in the wild card chase - but I have never been a visiting fan. I've always been comfy amongst other Jays fans (or semi Jays fans) in the Rogers Centre. As far as I know, Tigers fans are fairly docile. If all else fails, I think we can unite in our hatred for the Yankees.

I'm going to the game with three hardcore Tigers fans, so it should be interesting to see if I don't get abandoned in Detroit. Though, it looks to be a good pitching match; The Doc vs. The Gambler.


It should be fun to visit a different ballpark for once, and from one I hear ... Comerica is a pretty badass diamond.

Just keep in mind, if the Blue Jays win on Monday, I'll be jumping like Touch 'Em All Joe.

"Touch em all Joe, you'll never hit a bigger homerun if your life!" - the late, great Tom Cheek