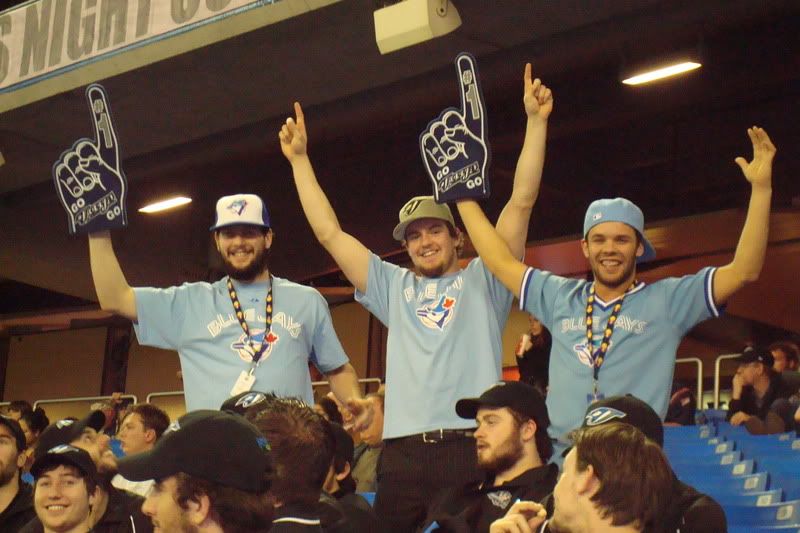 Congratulations Jays Fans; we've endured 7 years of J.P. Ricciardi's "5-year plan",
the Tim Johnson scandal
, we were the birthplace of
the biggest steroid scandal in baseball
, plus countless other disappointments. As our reward for years of punishment, Forbes Magazine has listed the Toronto Blue Jays as having the
6th most loyal fans in baseball
.
There obviously were a lot of people who jumped on the bandwagon back in '92 and '93, but the true fans have stuck around even after the mid-season collapses, and missing the playoffs for the last 15 years.
I wouldn't say that Blue Jays fans are the most loyal in the Toronto - that title is reserved for fans of the
Maple Leafs
. Fortunately for
Jays fans
, they do not desperately cling to their team regardless of what dumbass moves management makes and how poorly the team plays. Refusing to pay upwards of 40 bucks for the shittiest seats in the house is also what sets Jays fans apart from Leafs fans.
Much like Canadians themselves, Toronto Blue Jays fans for the most part sit quietly in hopes of another World Series title. They are not so quick to abandon their team, but do often question the moves (or lack thereof) of J.P. Ricciardi and upper management of the team. 6th place sounds about right - we're not quite absolutely
die-hard
, but not quite
flighty
either.